Every reason to start investing
A free investment account
You need to make your money grow, that is why you shouldn't pay to open your account.
Your investments should make you earn not pay. Buy mutual funds online at low fees.
Choosing the right investment, comes with having the right options. We lay them out for you clearly and simply, so you have everything you need to make the right choice.
A free account. No extra fees. Many investment options. You call the shots.
Pick your style from 3 different investment approaches depending on how confident you are in investing.
Built to suit your needs and your investment goals, let the professionals make the decisions for you.
Frequently Asked Questions
How can MeDirect help me invest?
MeDirect's team of financial advisors is available to discuss your financial goals and, based on a clear understanding of your financial situation and risk appetite, provide advice on an appropriate investment strategy.
How do I open an Investment Account?
If you are already a client of MeDirect opening additional accounts is quick and easy. You will just need to Log In to your account via desktop or open our Mobile App, click on 'Open an Account' and follow the steps indicated on screen. All the securities that are available on our online trading platform can be traded through the app. The trading experience via the app is very similar to our online platform, so you can use whichever you prefer. All trades made via the app can be seen online, and vice versa. For an overview of trading on the app see our Mobile App User Guide. If you are not a client of MeDirect you will need to choose Become a Client  and follow the steps indicated on screen.
How do I place an order?
Once you have opened and accessed your online trading platform, you can place an order in a few different ways.
If you know the name, ticker or ISIN of the security, you can access the "Place an order" screen from your dashboard by:
Clicking on 'Trade' and selecting 'Place an order'
Clicking on 'My Investments', selecting 'Overview' and click on the button 'Invest'
You can also place orders through the search tools. This helps you search for investments and enables you to place orders, by clicking on the "Place Order" button located next to each security. The search tools can be accessed directly from the "Trade" menu or by clicking on 'Browse products' and selecting 'Explore investment products', where you can choose any one of the investment categories. You can also buy or sell securities that you already hold by clicking on 'My investments', selecting 'Overview', clicking on a security and choosing whether you would like to Buy or Sell the security from your portfolio.
Have any questions you would like to ask before you start investing?
Experience better Investing
The sooner you start managing your money, your way, using the best-in-class tools, the sooner you'll see results.
Sign up and open your account for free, within minutes.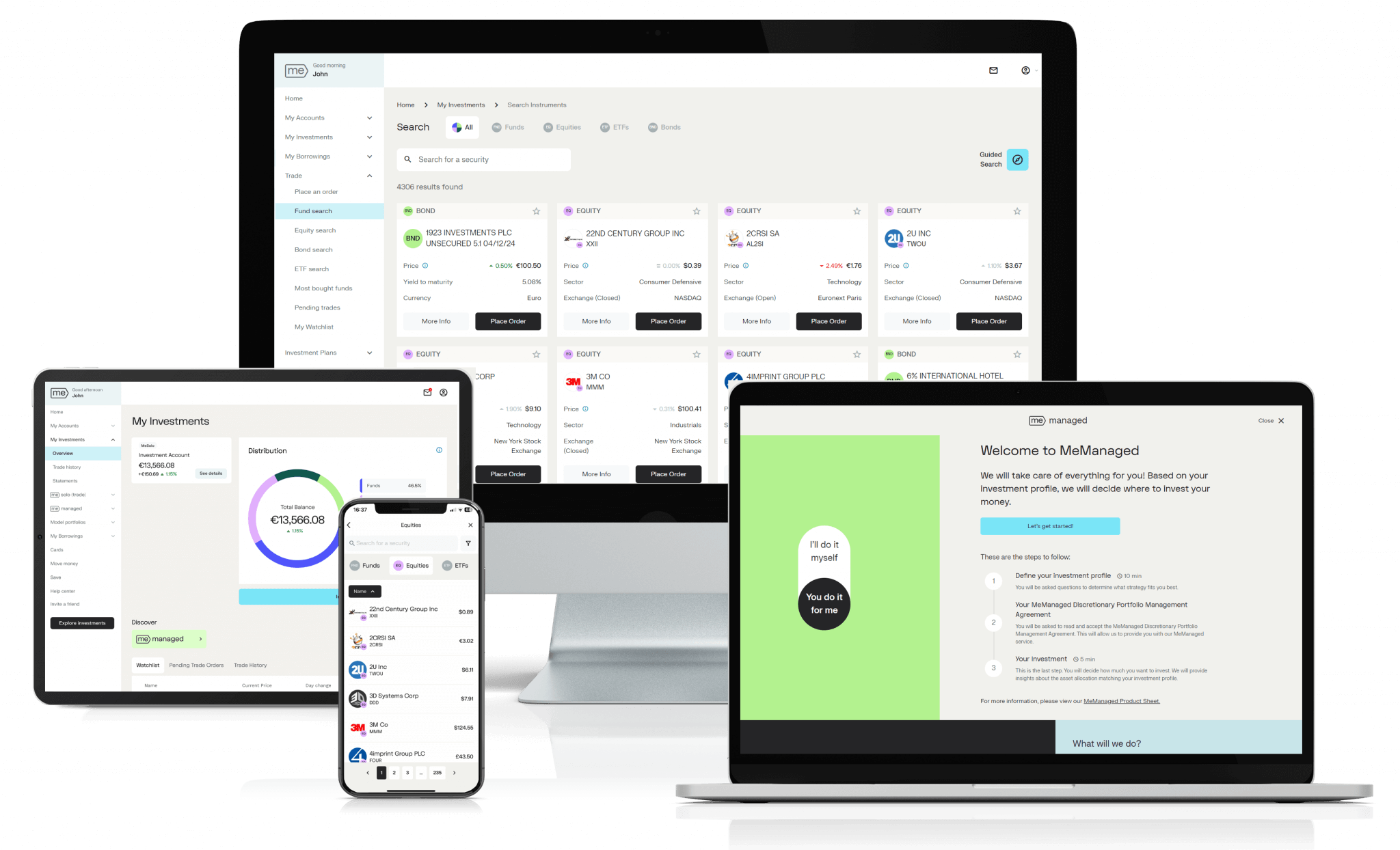 All investment decisions must be based only on the legal offering documents. The legal offering documents (Key Information Document (KID), Prospectus/Base Prospectus and annual and semi-annual reports) are available free of charge at this website and/or from the issuer's website. Past performance is not a guarantee of future performance. If you invest you may lose some or all of the money you invest. The price of investments and any income can go down as well as up.