My Card - Modern, simple and free.
Your MeDirect Debit Card is the perfect choice for your financial needs. Mastercard's wide acceptance across the globe allows you to withdraw cash, make online payments, and buy goods from numerous locations worldwide.
Earn Cashback with MeDirect's Mastercard!
Ordering a MeDirect Debit Card is a quick and easy process that can be done through the MeDirect Mobile App or Online Platform, and it won't cost you a cent.
Opening an account with MeDirect is a hassle-free process that can be completed within a few minutes. There are no minimum balance requirements, and you won't be charged any fees for account management or maintenance.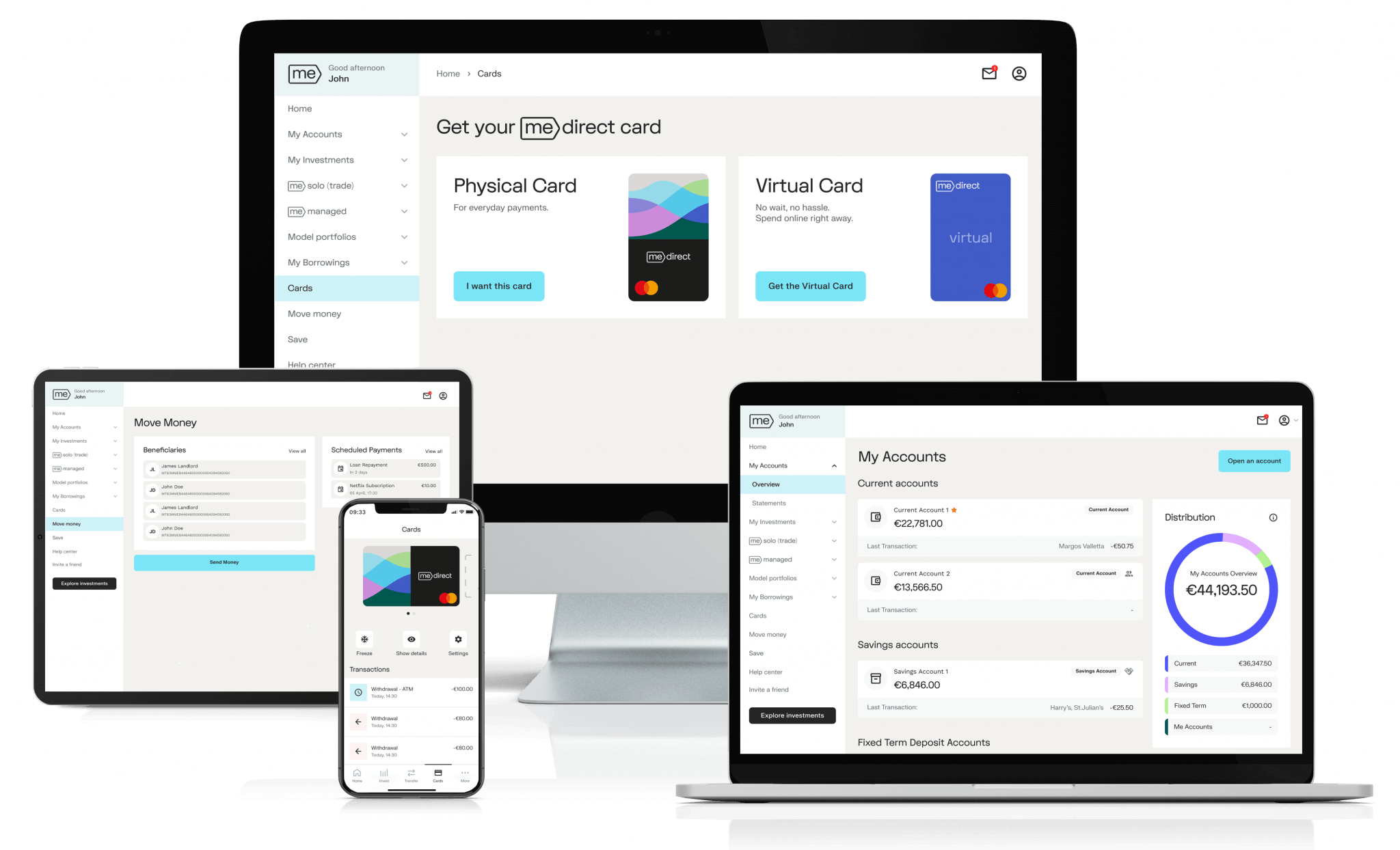 In addition to not charging any fees for payments made using your Mastercard, MeDirect also allows you to transfer funds without any additional charges whenever you need to. SEPA transfers are executed on a same day basis and are free of charge.
With MeDirect's Mobile App and Online Platform, you can conveniently access a comprehensive overview of your financial situation. All of your bank accounts can be managed in one place, giving you complete control over your finances.
Multiple Currency Account Facility
You can open and manage accounts in EUR, GBP, USD, AUD, NOK, CAD, CHF, JPY, DKK and SEK. If you need to make a transaction in any of these currencies and you have a funded MeDirect account in that currency, you can make transactions without incurring any foreign exchange fees.
Manage your money and your card all in one place
The features and benefits of your card
24/7 access to your funds
This allows you pay for goods and services whether on the high street, over the phone or online.
Withdraw local currency from cash machines in most countries of the world.​
Withdraw cash at any cash machine free of charge up to, or equivalent to, €350 a month. A few ATMs charge a commission but you will be informed before charges are made.
Make payments for goods on e-commerce websites​
Contactless technology provides added convenience for small value transactions.
Our fraud detection system constantly monitors card transactions on your account for irregular activity. When we determine that a transaction is suspicious we will stop the transaction from going through. 
Get a Debit Card
you can count on!
Ordering and activating your card
You can order your MeDirect Debit Card via the MeDirect website. Once you receive a physical card you need to activate it by using the card, together with the PIN, at an ATM or by making a purchase at a point-of-sale (POS) terminal.
The contactless feature will automatically be activated after the first purchase.
You can make purchases of up to €5,000 per day with your MeDirect Debit Card.
The total withdrawal limit from ATMs is €1,000 per day. No fees apply on the first €350 withdrawn each month. For charges that may apply on additional withdrawals view our tariffs and charges schedule that can be found here.
Contactless payments which do not require a PIN are limited to €50 per transaction. As a security feature you will be required to use your PIN when you complete a total of €100 in successive contactless transactions.
For information on how you can switch banking services between MeDirect and other banks, click here.
You can read our fee information document here.
Information regarding the Cross Border Payments Regulation can be found here.
Frequently asked questions
How do I order a card?
To be eligible to order a card you need to have a current account in your sole name. Login to the MeDirect App or via Online Banking and go to the Cards tab. Here you will be given the option to choose a virtual or a physical card.
When ordering a physical card, you will be requested to confirm your delivery address as well as create your card PIN. This PIN will be used for cash withdrawals and certain card payments.
Can I use my card internationally?
Yes, you can use your card wherever Mastercard is accepted. You can also open and fund accounts in multiple currencies; this will enable you to buy the currency you need ahead of time.
Are there charges for cash withdrawals?
Withdrawing cash from an ATM using your MeDirect card is free of charge for the first €350 per month. After this limit is reached, a fee is charged as per our tariffs and charges, which can be found here.
Have any questions you would like to ask before you order your card?
Experience better Banking
The sooner you start managing your money, your way, using the best-in-class tools, the sooner you'll see results.
Sign up and open your account for free, within minutes.